Craning out the mast from a Solaris 48′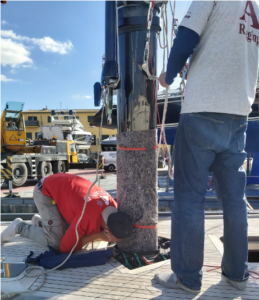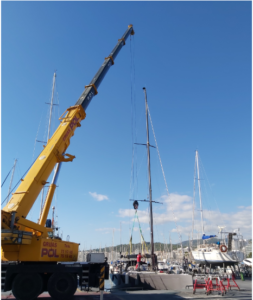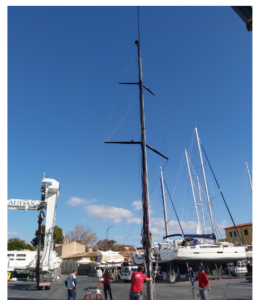 After 10 years of use, the rod rigging on the mast of this Solaris 48' was in need of replacement.  Yacht Management Mallorca organised the rigging crew and crane to handle the work in the Audax Marina Mallorca yard in central Palma.
Yacht Management Mallorca oversaw the works, from moving the yacht from its mooring to the crane dock, removing the mast, and returning to its mooring.  The entire operation took just three hours in total and so the yacht was back in its mooring that same morning.
This is a good example of how slick the operation can be in one of Palma's leading marinas to ensure a professional job, well-executed and completed within a few hours.
Palma is the leading destination in the Mediterranean for servicing & repair
According to the Spanish Large Yachts Association (www.aegy.org), Palma de Mallorca is the leading destination in Spain for servicing and works on yachts and powerboats during the winter months. The Balearic capital of Palma is regarded as the centre of yachting in the Mediterranean with three main yards that include Astilleros Mallorca, STP Shipyard Palma, and Audax Marina Mallorca.
Palma's marinas offer a total of approximately 3,506 moorings (from Club de Mar to Portixol), approximately 968 of those moorings are over 15 metres, 421 are over 15 metres, 309 are over 20 metres and 238 are over 24 metres.
A unique combination of the range of facilities for yachts and motor vessels from 8 metres to over 24 metres, together with the marinas' proximity to Palma's centre, accommodation, shopping, restaurants, cafes & bars, beaches and golf courses, make it a highly desirable destination for the marine industry.
Information on yacht and motorboat repairs and servicing: https://yachtmanagementmallorca.com/services/
Yacht care and guardianage: https://yachtmanagementmallorca.com/guardianage-boat-care/