Welcome!

We take more care
Yacht Management Mallorca (YMM)  is based in Palma and offers an individual, personal service which is tailor-made to your vessel and your specific needs. From boat cleaning to anti-fouling service.
Palma de Mallorca – the Mediterranean's top nautical centre
We are based in Palma, widely regarded as the main centre for yachts in the Mediterranean with a highly skilled workforce for all types of yachts, motorboats and superyachts. The island is approximately two hours flying time away from Europe's main cities with regular direct flights into Palma's International Airport.
From Minor Repairs to Major Refits

YMM offers an extensive range of expertise in yacht services including engineering, paint works, rigging, carpentry, G.R.P./composite repair, electrical, marine electronics, plumbing, and all other aspects of yacht maintenance. Our knowledge can be applied to minor repairs or major refits.
Guardianage & Boat Care Service
YMM offers a complete turnkey service providing an economical solution to your boat care requirements without having to employ expensive full-time crew. Based in Palma de Mallorca we offer cleaning and boat care services throughout Mallorca.
YMM offers a dedicated professional service and full end to end management for all aspects of your yacht requirements.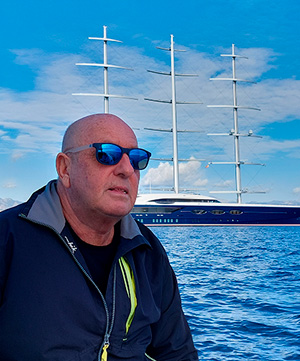 Paul Clough
Paul Clough heads up YMM and specialises in vessels under 35 metres using a network of experienced, professionals in the nautical industry who are selected specifically for each job.
He is able to offer independent, no nonsense advice with his 25 years of experience as a former Skipper, Commercial Diver and Yard Manager.