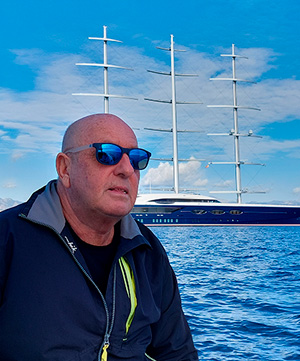 Experience – know-how – independent advice

Paul started his nautical career in the Royal Navy.  He then held various skipper positions on yachts in the Caribbean and in the Mediterranean. When he landed on Mallorca some 25 years ago, he extended his skills and trained as a Commercial Diver working in Mallorca's main marinas.
Latterly, he was Boat Yard Manager for one of Palma's leading boat yards, co-ordinating all hauling and overseeing full refits and repair services.
Local know-how – experience – practical advice
Paul Clough has established a team in Mallorca of highly skilled and experienced craftsmen and professionals with years of experience in the nautical industry who are specifically selected for each job on all types of yacht or powerboat.
His objective is to ensure any project, regardless of the size of the job, runs smoothly and to deliver the work on time and to the highest standards. He can offer independent, no-nonsense advice backed by his years of experience in the industry.
Palma's Nautical Industry
In recent years there have been a lot of changes in Palma; companies have closed down or merged and new companies have started up.  Paul's local knowledge is important to navigate around the nautical industry in Mallorca and he knows which companies or individuals are still reliable and offer consistently good service. Go to news.