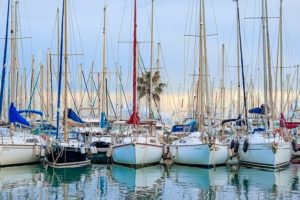 In this extraordinary year, there's no better place than to escape to Mallorca and go sailing and disconnect as in Mallorca's stunning Mediterranean waters. The Balearic Islands are a safe haven, located almost 300 km away from the Spanish Mainland, with some of the lowest rates of COVID 19 not only in Spain but also in Europe.
Sailing or motor cruising around Mallorca
Make this a welcome break from life in the city. Experience the freedom of your vessel and the liberty of moving around in your own private safe space at sea. The island's sophisticated infrastructure ensures excellent transport connections, modern healthcare with multilingual specialists and most importantly, the island's high-speed WIFI means that you can still stay in contact if necessary from the comfort of your yacht or motorboat.
Although the majority of boat owners visit Mallorca, the capital of the Balearic Islands, in the peak summer months to sail their yachts or motorboats, insiders know that some of the best times of the year to use a boat is in the late summer/autumn when the sea is still warm enough to swim and there's still plenty of sunshine so that you can cruise around in shorts and a T-shirt.
Explore Mallorca's coastline
When the intense heat of the summer has passed it's a great time to cruise around the island's 544 km of coastline with Mallorca's many beautiful coves and over 200 beaches. Owners will also find more availability on the visitor moorings in the island's 47marinas making it easier to sail or motor cruise from one port to another.
Palma – The destination in the Mediterranean for the yachting industry
As there's good access into Palma de Mallorca's International Airport with regular direct flights from the main European cities, boat owners can easily escape to one of the top nautical destinations in the Mediterranean and enjoy the island's mild climate and warm sea breezes.  What better way to end a day's sailing watching the stunning sunset whilst sipping a drink on the aft deck in a safe and secure environment. Enjoy Mallorca's lifestyle at its best.
Contact Paul to service/repair/prepare or sell your vessel: Guardianage & Boat